Earlier I asked many in FB , wanting to impart whats the powerful five mantra word that I am going to share. And the answer is
the five 咒字 is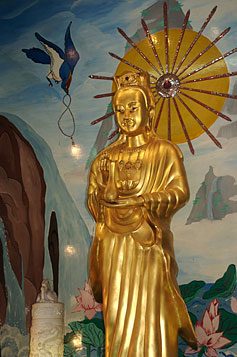 If u are laughing, or thinking this is a joke or 就这样?
Than there is a lesson we need to learn.
Do you know a simple chanting of Guan Shi Yin Pu Sa with faith is so powerful. But how many of us 一心不乱,和信(不是迷信)。
Ancient time we heard people chant Guan Shi Yin Pu Sa name and many issues settle. But why not now. Because we forget 心诚则灵。缺乏信心与感应。
I am sharing these with u because sometimes i share mantra with u all. But u all just keep thinking about ur problem and niam and niam ur problems. Why not just let go let the higher divine take care and lead a happier life and cultivate peace.
Last time, old granny, chant the name over water for family to drink and feel great.
Nowadays, u learn so many mantra and not one of them we really focus or chant with faith.
So if u were laughing of my five words earlier, it means we must re look into our faith system. I also learning de. And i hope this short exercise remind u.
Example: When I chant Cundi mantra, I quiet myself down and chant with great faith.
Faith is the key. When I am walking to work I chant and feel Cundi is taking care of me and when I walk around the earth it shines to all beings:>